Skipping over a workshop where I made a podcast from the future with two media studies lecturers (fun and useful!), onto the afternoon lecture at
Virtual Voices
!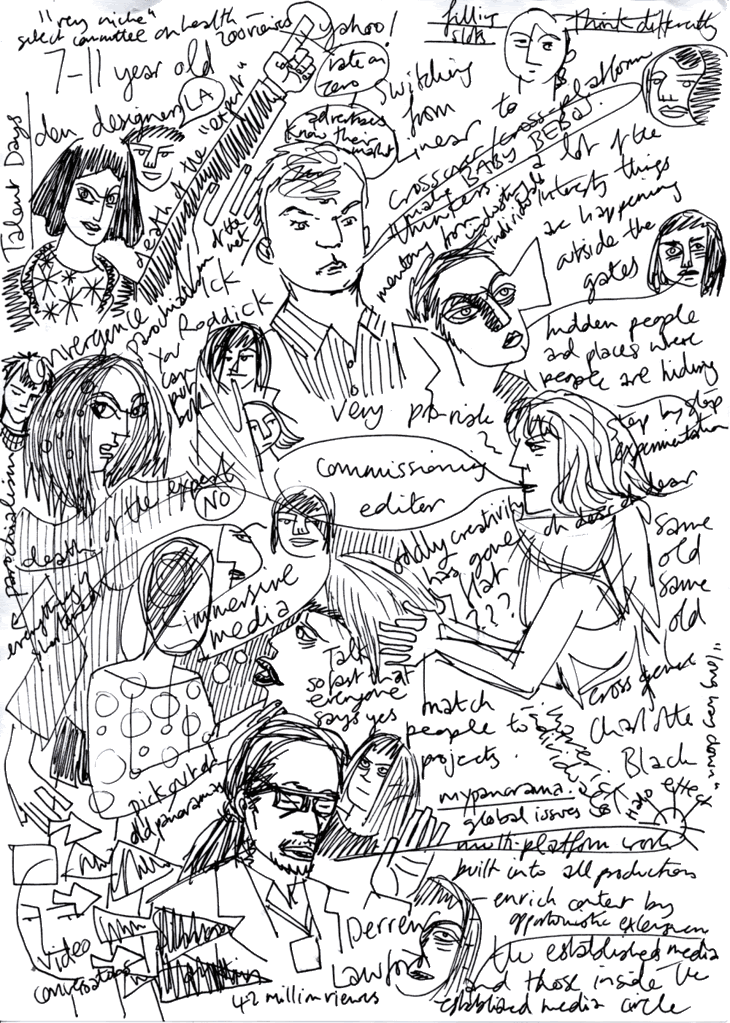 Interesting stuff in this panel from Derren Lawford, who edits the
Panorama Website
, but Simon Hankin (from the company that does the
Skins
site) had less of interest to me to add, while Charlotte Black, a commissioning editor for Channel 4, seemed rather unable to tell us what she did at all. Slightly odd vibe in that although it was about emerging platforms, the people up in front were all the New Media facelifters of traditional media, and lots of the people in the audience seemed concerned about where the new generation of media studies pupils were going to get jobs in a media world seeing "the death of the expert". Personally, I'm not convinced by this "death of the expert" business -- truly knowing your topic inside out is always going to be both rare and valued -- but the warnings against parochialism and the reasons for reporting from unpopular/ist areas were considered and useful. But with no-one on the panels from large independent online-only providers it was hard to get the full picture, and the small businessmen in the audience, especially, got very aggravated -- one buttonholed me after the event and told me it was a disgrace that public money had been spent on my attending the event. Like most education professionals, I'm always ready to challenge people when they put forward unconsidered views, and I had plenty to say to that.
Mindful of getting my money's worth for the tax payer, I stuck around to see the short film programme. Good thing I did, because I suddenly found out what it was that Charlotte Black (who'd done the selection of the films) actually does. The films were, without exception, truly excellent. Original, controversial, gripping, honest and clearly produced with the full participation of the young people involved. You can see them all over at
South West Screen's Youtube Channel
, but this one on homelessness is particularly standout. I'm already recommending it to projects in Banbury aimed at persuading young people to stick it out and successfully negotiate with parents rather than leave home: